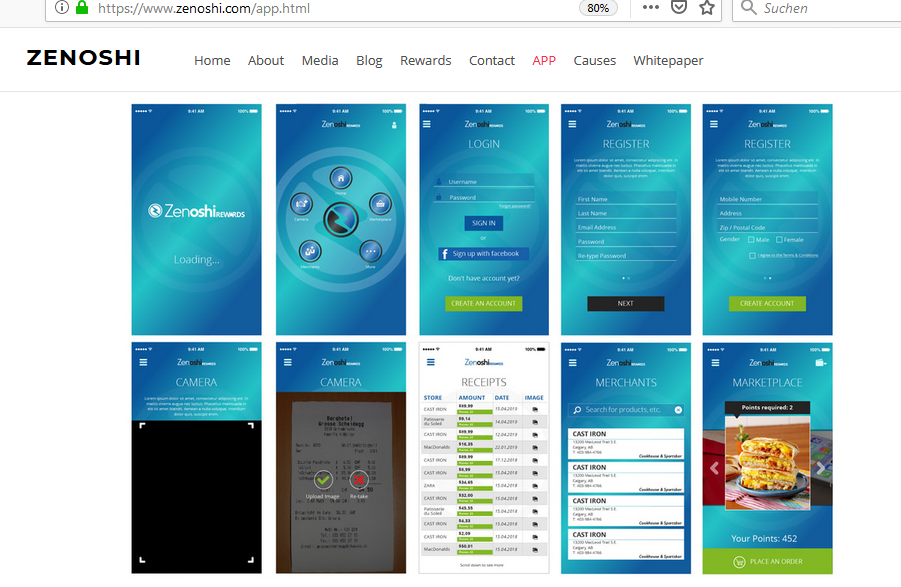 Zenoshi, a company based in Alberta, Canada, has the goal to become THE universal reward program. With this program one can submit receipts of lots of different companies and shop and recieves reward points – the Zenoshis.
In order to achieve this goal, Zenoshi needed a mobile APP. TeamQ implemented this APP, which allows users to upload their receipts by scanning it with the phone's camera. The invoice data is processed and stored. For every receipt a user receives rewards points, which can be exchanged for products from several stores being registered at Zenoshi. Apart from this you can earn points for using the APP, ads and referrals.
The technology which has been used by TeamQ is PHP 7.4 in the backend, VUEJS for the web based admin panel and IONIC as framework for the APP itself.
The collaboration with the Zenoshi team in Canada was effective and pleasant. When the goals and milestones are defined, the physical distance is no issue at all. The gained experience on the Northern American market has been very valuable for the TeamQ. To experience the positive spirit of the founders of Zenoshi has been really special for our still quite young company.
Beyond technologie, it has also been an important learning to get into the complexity of reward programs. The success of this project shows us again the huge potential of remote collaboration.
In some days the Zenoshi APP can be downloaded from the APP Store and from Google Play.
#TeamQ #TeamQEcuador #TeamQQuito #APPsTeamQ #Zenoshi #AppZenoshi #RemoteWork #RemoteCollaborationEcuador #ProgrammersEcuador #DevelopingDreams #SoftwareSolutions #RemoteJobs #RemoteJobsEcuador